WHAT IS STAR MAP?
Star Map is a chart which shows the position of stars, constellations and planets on given date, time and location. Which can be your wedding day, birthday or any other special day. Each star map is unique for that time and location.
HOW ACCURATE IS IT?
The entire library of all celestial objects which includes approx 100 million stars, comets and asteroids has been logged by NASA Astronomical Data Center Star Catalog.
This data comes from multiple sources: we use Bright Star Catalog from Yale University as our main source of celestial data, among several other astronomical databases with past and present NASA planetary missions, astronomical observations, and laboratory measurements.
We use this data and feed it into our proprietary software which then uses the geographical coordinates and the date-time provided by you to chart out an accurate map of these objects.
We then beautify this map by adding graphics and plotting popular constellations to create a timeless piece of art that is ready to adorn your wall forever.
You can verify the authenticity of our Star Maps using any open source or free app/website available to check sky data. If you have any doubts please feel free to contact us.
Put your special moment on display
Make Anniversary, Graduation, Birthday or any other special moments more memorable.
See the preview in real time with our live editor, choose from different colors, fonts and backgrounds!
Design your star map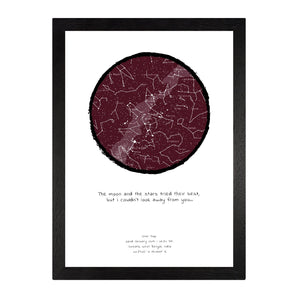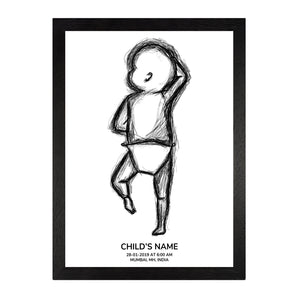 NEW VERSION OF BIRTH CERTIFICATE
Cherish the birth of your child with the perfect keepsake that reminds you of overwhelming emotions when you first saw your child.
GET BIRTH POSTER